Or is it? 
For obvious reasons (being 3 weeks away from giving birth) I have been thinking a lot about names recently. In particular about how names work and sound in different cultures. 
Our aim is to find a name for our baby that will not only exist in both English and German but that is also pronounced approximately the same. You would think that this is easy, but believe me it is not!! Because of course we both have to like what the name stands for as well. 
I have also realised that certain combinations just don't work in one language, when they work in the other. TH- being a rather obvious one in German. I also personally don't like starting a name without a strong syllable at the beginning. 
And of course there is all that talk about how a name can affect your personality - and if that wasn't bad enough, a friend told me yesterday that she was really interested to find out what we are going to call our baby. So am I!! 
Sometimes I wish we could just stick with our working title!! You won't find that on this list.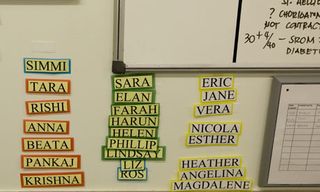 More thoughts on this topic here