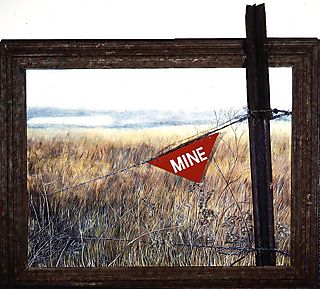 A very brave friend of mine has flown this week to Haiti to work with an aid organisation for 3 months to help provide medical assistance and distribute aid. I had a quick look through the documents that she was sent to help prepare, in particular the Security Manual. It was a very scary document, especially because up until then, I hadn't really thought about the dangers that go along with the sort of crisis situation which now exists in Haiti. The Manual was a general manual so it tried to cover everything - situations where you are threatened by people and situations where you are threatened in other ways. One of those other situations is minefields!! In minefields the signs and symbols that you see have a very concrete meaning: they are there to warn you and hopefully protect you from injury. 
Some of the symbols that are used are stones painted red, coke bottles on a stick and cairns. Now interestingly I have just come back from hiking in the Lakes (beautiful!) and we saw lots of cairns. In fact up Great Gable it was the cairns that helped us find our way. 
On a minefield the cairns have a very different meaning. Instead of meaning walk here, they mean precisely the opposite: Don't walk here. And sometimes, my friend was told, the signs for minefields aren't even obvious, unless you know they are there. 
It's a very good lesson in the importance of context in semiotics. 
And of course a lesson in altruism for us all.