I am not the only one I know but I love the communication and corporate positioning of the Berlin Stadtreinigung (responsible for all kinds of waste disposal and street cleaning in Berlin). Their colour is orange, a nice bright friendly orange and for several years now they have been running communication which is just simply intelligent and fun. They have of course loads of space to communicate; as well as the classic ATL posters etc, they use all their trucks, their tools, their clothes and even the bins on the streets.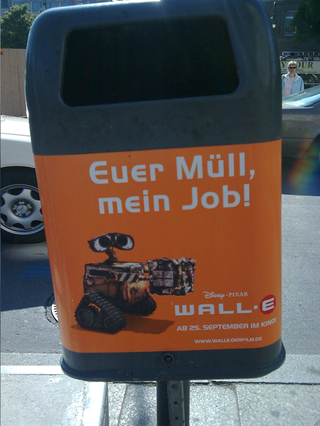 The photo here was taken a while ago and was obviously a tie up for the launch of Wall-E. But it's perfect- a little friendly robot that cleans up the world that has been destroyed by humans and ultimately finds love. It's not only the perfect fit which I find so good but also the wit and style with which these things are done. I didn't take a photo of my absolute fave bin, but someone else did, so follow this link to Flickr to see some more of these classics. Flickr MAEDios' photostream
I have to confess that when I am out and about now, I look out for BSR to see what they have got up to now - in a positive sense.